Treatment Approach
I practice from the viewpoint that everyone is unique and I tailor my approach to best meet your personal needs. I use an integrated theory base, pulling from Cognitive Behavioral Therapy, Solution Focused Therapy, Person Centered Therapy, and Dialectical Behavior Therapy.
About Me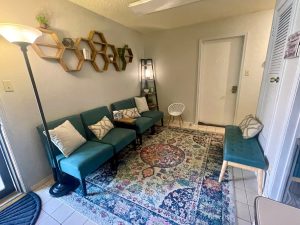 My role as a counselor is to guide you through difficult situations and explore unsettling emotions. I do this through providing an unbiased and non-judgmental perspective while offering support and encouragement in working through issues collaboratively. We will identify and work towards implementing coping skills and promote healthy management and expression of emotions in your daily life to help you find happiness and inspire positive self-worth.
My intention is to foster an open and laid back environment so that you have a safe and comfortable place to come and share your thoughts, feelings, and difficult situations while celebrating successes and focusing on strengths to promote growth and progress towards achievement of your life goals.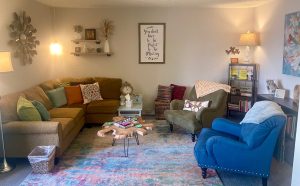 Since 2013, I have had the awesome opportunity to work with unique individuals like you to empower them to reach their full potential. I specialize in working with teens and young adults who are seeking to improve themselves or a situation they are struggling with. I have had experience with a variety of issues across the continuum of life experiences through working at several community agencies in Lubbock as well as practicing independently at The LifeVesting Group and now currently through my own private practice Strait Counseling LLC.
If you would like a helping hand in your journey down the sidewalk of life, or have further questions about how I could possibly help guide you through that process, please contact me at (806) 340-0446 or send me an email through the link shown or on the contact page. I look forward to exploring this opportunity with you!
Education & Credentials
Masters of Education in Community Counseling

Texas Tech University- 2014

Bachelor of Science in Human Development and Family Studies

Texas Tech University – Summa Cum Laude with Honors – 2012

I have been a counselor since 2013.

 Strait Counseling LLC (2017-present)
The LifeVesting Group (2014 – 2016)
Community Health Center of Lubbock (2016 – 2019)
Workforce Solutions South Plains (2014 – 2016)
Family Counseling Services  (2014)
Lubbock Christian University  (2014)
The Children's Home of Lubbock (2013)

Licensed Professional Counselor (2016 – present)
Licensed Professional Counselor Intern (2014 – 2016)

Was supervised by Shelly Thompson, LPC-S

Certified Anger Resolution Therapist (2014 – present)
Schedule Your Appointment Now.